Regular price
Sale price
€14,95 EUR
Unit price
per
Sale
Sold out
The High Priestess represents our intuition and our deep rooted sacred knowledge of the Universe. As a divine ruler, she is the source of fertility & abundance, using the natural cycles of the Moon as her guide. Powerful, yet embodies soft energy - she is illuminated through reflection and allows us to feel empowered by trusting our intuition.
CRYSTAL
Moonstone is associated with the high priestess which represents karma, healing and a deep ancient wisdom of the universe and its cycles. it can help to regulate hormones and make you feel empowered with your own feminine energy.
SCENT
This cedarwood, frankincense & lavender blend connects to our deep internal thought processes, opening our crown chakra and third eye for a stronger connection with the divine. 
Share
Ingredients

Sunflower Oil* (Helianthus Annuus Seed Oil), Grape Seed Oil* (Vitis Vinifera), Isopropyl Myristate*(Propan-2-yl tetradecanoate), 100% Pure Cedarwood* (Himalayan), Frankincense* (Serrata), Lavender* Essential Oil & Mica

*Natural Ingredients
View full details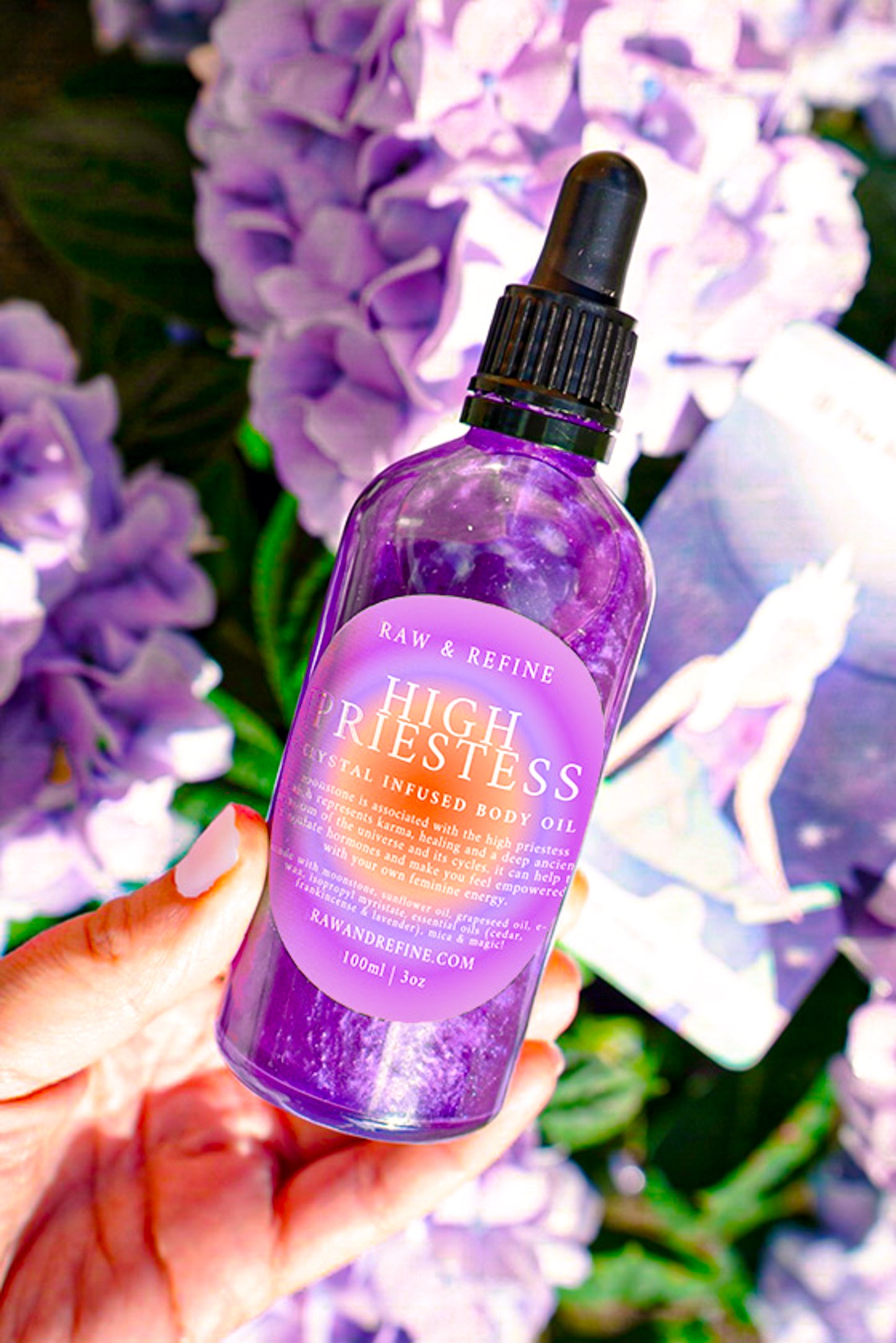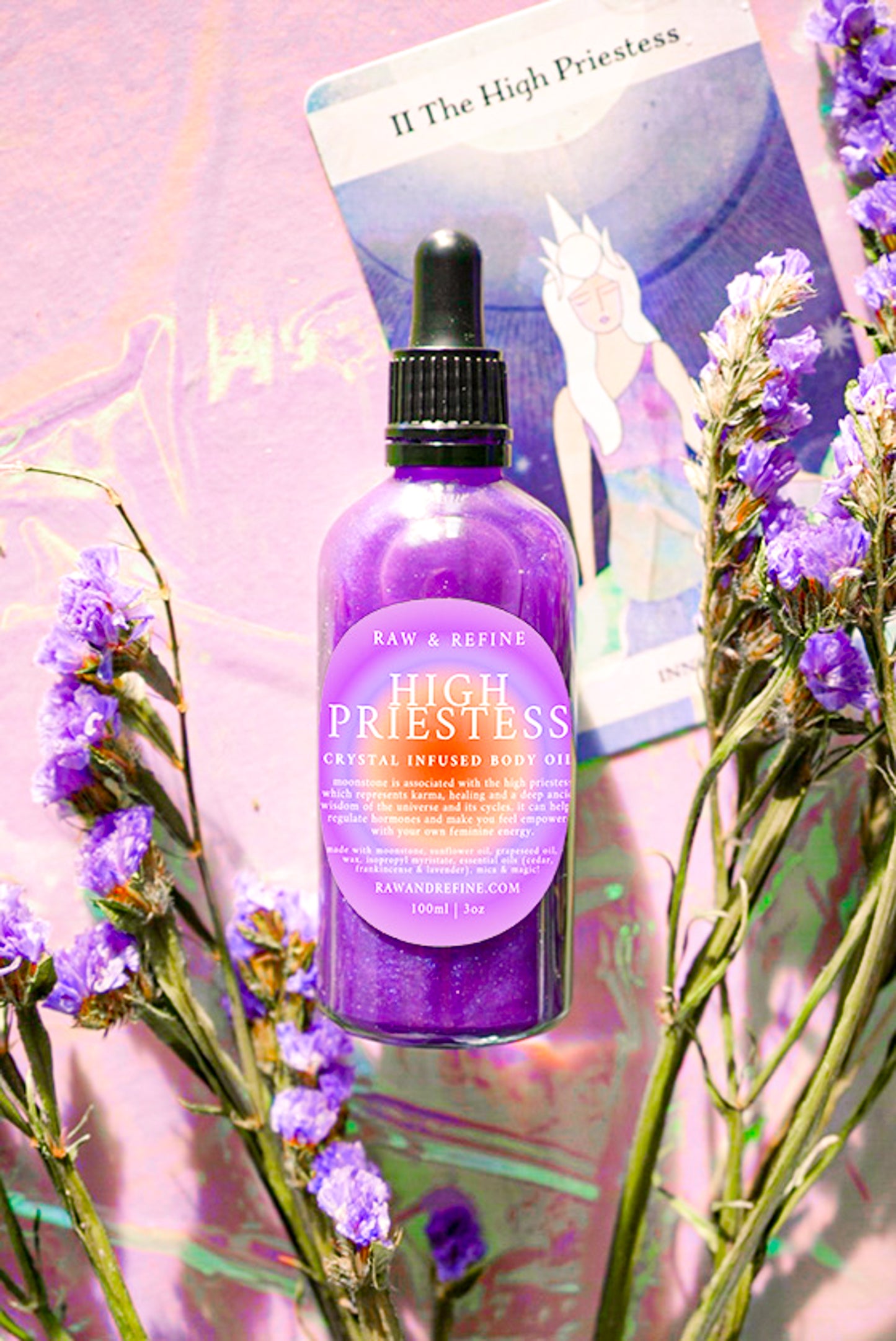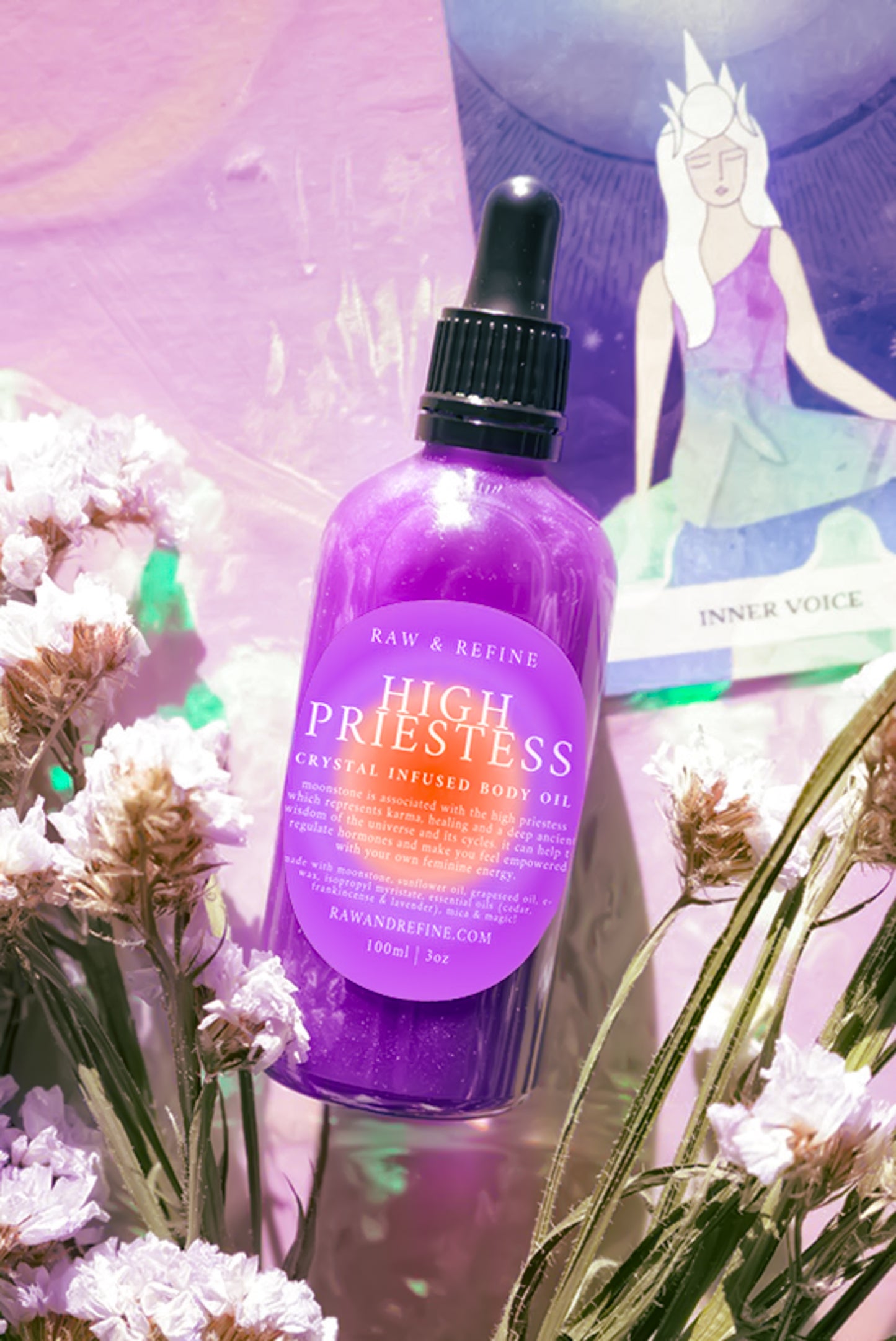 Magic Ingredients
Sunflower Oil

Pumped with antioxidants & vitamins, sunflower oil will keep your skin looking young & fresh. Sunflower seed oil has anti-inflammatory properties that calm skin redness . It is high in omega-6 (linoleic) fatty acid, which helps decrease inflammation in the skin & enhances the development of new skin cells.

Grapeseed Oil

With it's antimicrobial properties, grapeseed oil can help with acne outbreaks & make skin clearer. Containing vitamin c & vitamin e, this oil can help to preserve the skin by keeping it soft and retaining moisture. Grapeseed oil is also known for fading scars & tightening skin.

Isopropyl Myristate

Isopropyl myristate is an emollient that helps to build the skin barrier and keep moisture in. As an emollient, it softens and smoothes dry skin without leaving it greasy, making it an excellent component for people with dry or flaky skin. It also facilitates the penetration of other ingredients.